As data and technology have transformed so has the way we target, segment, and acquire customers. Account-based marketing focuses on targeting specific accounts. This means that you are doing your research, identifying key accounts and aligning your sales and marketing teams, all before building a single marketing asset or activity.
Adjust your related lists to highlight campaigns and accounts
New related lists are available on campaign and account records, which can help your sales team make connections between the two. They can quickly navigate between records or act on related records.
To get started simply add the Accounts related list to campaign records and add the Campaigns related list to account records.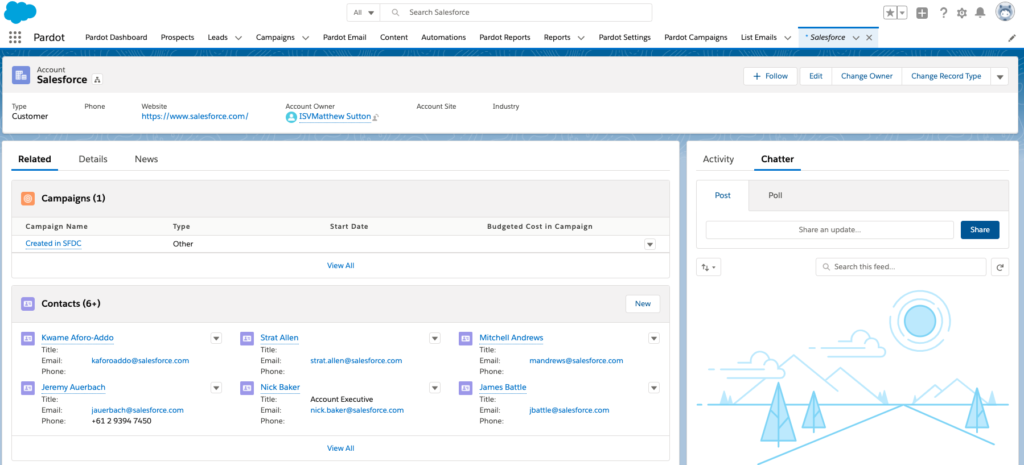 Salesforce Pardot is enabling marketers to build effective and aligned ABM programs.
Pardot (along with Einstein) helps you to automate much of the ABM process to get the most out of your campaigns. Here are some of the ways in which you can utilise Pardot marketing automation features to increase the efficiency and profitability of your ABM campaigns:
Identify key accounts:

Develop qualification criteria to determine accounts you would like to target. We would suggest looking at top-performing accounts from your last sales cycle, what do they have in common? Do they come from a particular industry or certain employee size? As a secondary layer, you can also look at the Pardot Score to help develop activities that drive engagement.

Delivering connected engagements: With a single account-centric view, your marketing and sales teams are aligned, placing you in the best position to get the most out of your ABM efforts and close bigger deals.  With Pardot's Account Engagement History view you can easily get a picture of account health and engagement.
Engaging buyers everywhere: You can build cross-channel and personalised account engagements on a single platform that is natively integrated with Salesforce. Harness Pardot's Engagement Studio to build customer journeys based on your buyer personas and segmentation model.
Take part and have your say
The team at Salesforce Pardot are always looking to connect with customers throughout the product development process. Fill in this survey to see how this functionality could be developed further.
Want to learn more about Pardot?